Global Attitude to Animals Survey 07/08 (GAAS) - Results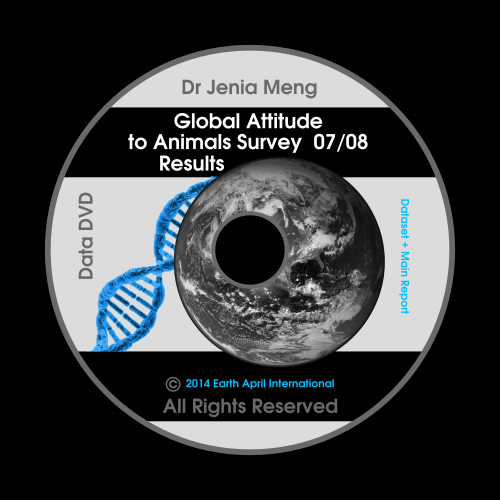 Order the CD here. Secure online payment with PayPal.
We accept PayPal, Mastercard and Visa. We can also arrange other payment options on request. Please contact us for more information: Research@EarthApril.GoodEasy.info.
CD Description
Items: Dataset + Main Report (Origins of Attitudes towards Animals)
Format: Data CD, Dataset is in Microsoft XLS formate
License: Academic License
Retail price: 4968 USD
Discount price: 200 USD

Postage and Handling: 0

About the Dataset: The dataset includes completed responses (more than 3400) recieved from global survey GAAS 07/08. Each records have about 100 column. Issues that were investigated are reducing poverty, racial equality, woman's right, peace and security, professional ethics, environmental protection, sustainable development, animal protection, equality for LGBT, human euthanasia, capital punishment, genetic engineering, human cloning. The data was collected from China (mainland), Czech Republic, Iran, Ireland, Macedonia, Norway, Portugal, Serbia, South Korea, Spain, Sweden, and the United Kingdom.
The survey questionnaire can be downloaded here (PDF)
GAAS 07/08 is a ground-breaking survey project of the University of Queensland. Thousands of people around world were involved in the project, including many renowned academics, who worked as collaborators. Project team: J. Meng, C. Phillips, N. Cross, A. Hanlon, A. Handziska, B. I. Choe, G. Illmann, G. H. Lee, H. Y. Hou, H. Kjastad, L. Keeling, M. Kennedy, M. Alonso, S. J. Aldavood, T. Rehn, V. R. Pelagic1, V. Lund
Order Online
(PayPal)
Click the button below
Please make sure to provide us your delivery address. Shipping time is usually within ten days.
Contact
© Earth April Research | Email: research@EarthApril.GoodEasy.info | Web: http://EarthApril.GoodEasy.info
---
© Earth April, all rights reserved | Email: info@EarthApril.goodeasy.info